It's no longer about who has the latest, shiny new car — it's about who has a worthwhile vehicle that will lower fuel costs, protect the environment, get you to your destination, and keep you safe. The Ioniq is the hybrid of the future, packed with safety features to keep you safer than ever; technology to keep you ahead of the curb; comfort features to ensure your complete satisfaction; and so much more. This is the hybrid you've been waiting for — the car of the future.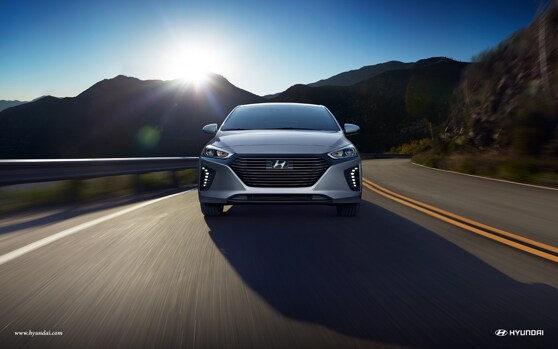 The Ioniq is crafted from advanced engineering materials for an unmatched hybrid experience. It utilizes high-strength steel, aircraft-grade adhesives, and aluminum to reduce the weight of the vehicle. The Ioniq boasts available Dynamic Bending Light in its headlights to increase visibility, keeping you safe even on the darkest nights.
Being eco-friendly isn't just a nice way to say, "uses less gas;" the Ioniq takes it to a whole new level. Many of its features, like the headliner and carpeting, are built from bio-fabrics of recycled plastics. It also includes remarkable and sustainable materials like raw cane sugar, powdered wood, and volcanic stone in the door trim panels and some interior plastics.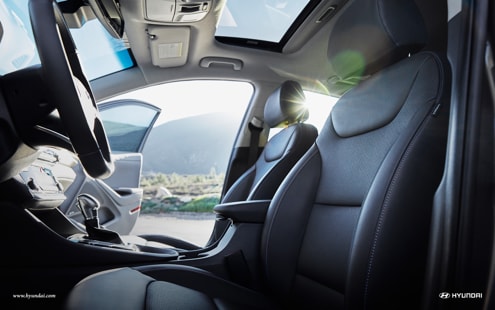 Its eco-friendliness doesn't deter from its power, though. An impressive 1.6L DOHC 16-valve 4-cyl engine comes standard with the Ioniq. It reaches 104 horsepower at 5700 RPM to move you through your commute as quickly as possible. Being a hybrid, it also includes an Interior-Permanent Magnet Synchronous Motor that produces a 32kW (43 HP) power output. These combine for a noticeable 139 horsepower — a victory for any sedan of this size!
From its meticulously-crafted interior and innovative safety features to its powerful engine, the Ioniq is the hybrid you've been waiting for. Our dealership has the largest inventory of them in the Western United States — be sure to browse our website or stop by to experience them yourself!