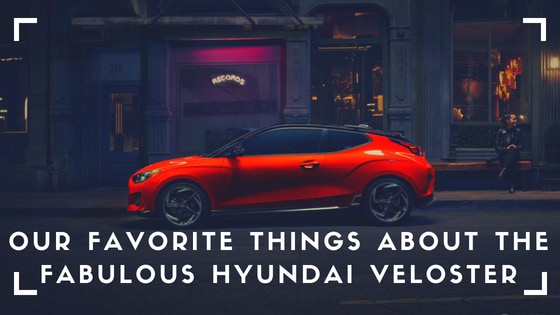 It's bold. It's sexy. It's affordable. You've seen the Hyundai Veloster cruising around Peoria. You know how sleek and daring it is. But how much do you really know about what lurks beneath the surface? Here are a couple of our favorite features of this fantastic model.
It has a striking exterior.
The Veloster is easily one of Hyundai's boldest and most memorable designs. This performance sedan has the feel of a sports car with a third door. You'll feel fancy and aerodynamic with the two-toned roof. The hatchback leaves you with a fun feel and even more space to store anything you might need—win-win! This is a car that will make passersby do double-takes when you pass them on the road or in a parking lot. It's a remarkable vehicle that has a notably distinguished air about it.
It's a geek.
This model is a bit of a geek, and we love it. It has all the latest bells and whistles, including an available 8-inch touchscreen, Blue LinkⓇ Connected Car Service, wireless device charging, and Apply Carplay or Android Auto integrations. This vehicle also includes some seriously great safety features. Hyundai offers Driver Attention Alert so that you stay alert and focused on the road. They also offer Lane Keep Assist and Forward Collision-Avoidance Assist to keep you safe and even prevent accidents. The bottom line is this: it has the capability to make your life easier and safer.
The interior is luxurious.
When you drive a Veloster, you won't want to get out of the car when you get to work. Its features are extraordinary and really make it an unforgettable driving experience. Enjoy its heads-up display, available leather-wrapped steering wheel, asymmetrical design, and wide sunroof. These are features that are sure to captivate your attention and promise an exhilarating experience.
If reading this blog has convinced you to take a chance on this car, the next steps are clear and easy. Begin your journey by browsing our inventory online. Then swing by our dealership to test drive it in person. You'll love the feel of driving a model this bold.