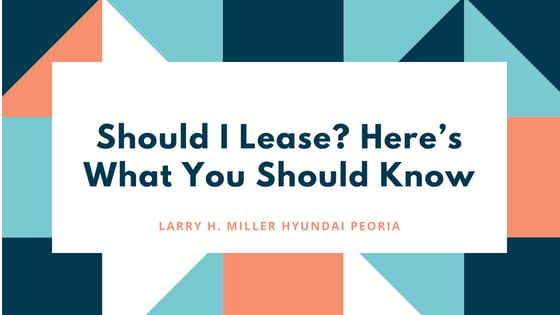 Leasing is a very underrated option. You get to drive a brand-new car, usually with a built-in maintenance plan, and lower payments—what a fabulous deal! This is ideal for students, those on a budget, and drivers who just want to switch up their ride more regularly than would be permissible with buying a car. Here is a deeper dive into why you should consider leasing that beautiful new car:
Less money down. When you lease a vehicle, the down payment tends to be much lower than it would be if you were purchasing the vehicle. Of course, promotional deals and higher credit scores can reduce the down payment even more—we've seen zero due at signing frequently over the years. However, as with buying, the more money you put down initially, the lower your resulting monthly payments will be following the initial transaction. Either way, this is a win-win scenario—we can all get behind less money down!
Always drive the latest and greatest model. When you lease, Hyundai often sets the mileage limit at either 36 or 72 months (3 – 4 years). They have a variety of

lease end options

; you can buy the car, trade it in for a newer one, or simply conclude your business. If you choose to trade your current vehicle in at the end of its term, you're able to upgrade to an even newer, shinier model! This is a great perk for anyone who likes to have the latest gadgets and technology. Hyundai comes out with fantastic new features regularly.
Reduced service costs. One of the most popular reasons to drive a new vehicle is that it's less likely to need significant repairs or maintenance. Leasing a vehicle fits right in with this reasoning. For about three years, you get to drive around a car that will most likely just need a few routine oil changes. In addition, Hyundai warranty covers most routine maintenance work throughout the duration of your lease, so you don't have to worry about the extra cost!
Leasing a new car is a great way to drive a newer car for far less money. We'd be happy to get you behind the wheel of a new Kona—stop by our dealership on Bell Road in Peoria to get started!