Having a properly installed car seat is one of the easiest ways you can protect your family. According to Safe Kids Worldwide, car crashes are the leading cause of accidental death for children. Properly utilizing child safety seats can reduce the risk of death by as much as 71 percent. This September and October, Larry H. Miller dealerships are teaming up with Safe Kids Maricopa County, Phoenix Children's Center for Family Health & Safety, and local first responders across the valley to provide free car seat safety checks. Please join us on September 23, 2017 from 8 a.m. - 11 a.m. to receive your free car seat check.
At our event, car seats and child booster seats will be checked for proper installation by certified child passenger safety technicians at no cost. Additionally, safety handouts will be provided to attendees with tips on how to maintain a correctly installed car seat. Parents are encouraged to bring their children to the event to ensure proper fit of the car or booster seat being inspected. Seats will be checked on a first-come-first-served basis and visitors will be treated to entertainment, light refreshments, and ice-cold water.
"Getting your car seat checked and knowing how to properly maintain can mean the difference between life and death for your child if you are in an automobile crash," said Zoraida Ettrick, injury prevention program manager with Maricopa County Department of Public Health and coalition coordinator with Safe Kids Maricopa County. "We are grateful to partner with an organization like Larry H. Miller that cares to provide education and awareness resources to our community through these vital seat check events."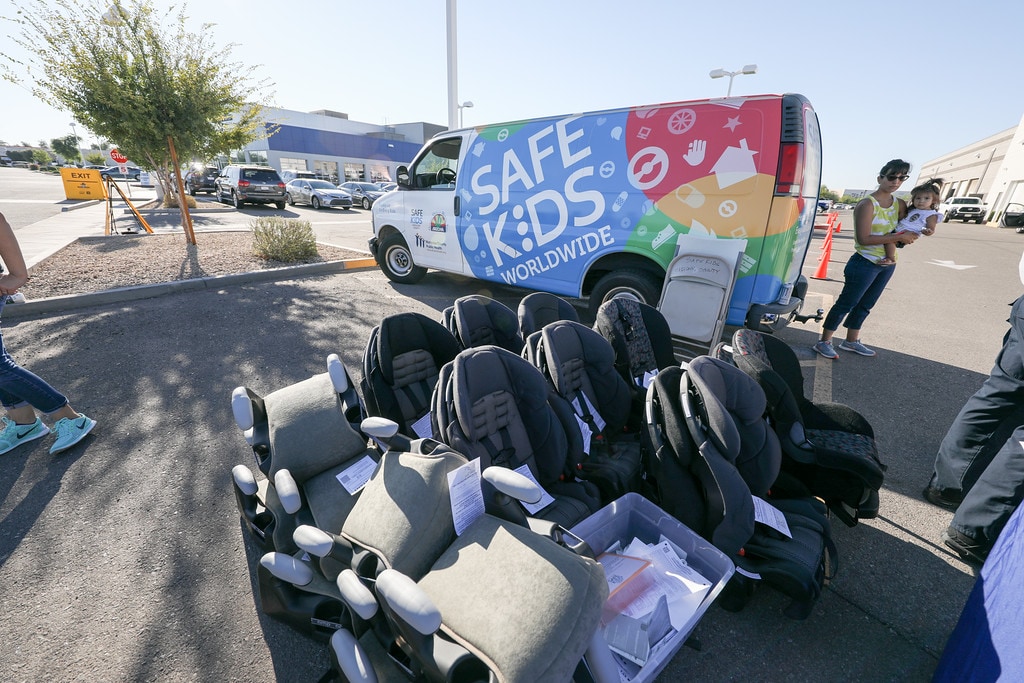 "Knowing that seven out of 10 car seats are installed incorrectly makes any parent stop and think," said Pat Kroneberger, senior vice president of operations, Larry H. Miller Dealerships. "Over the last two years, these events have proven to be beneficial to the families in our communities. We hope to continue to provide parents and grandparents with a forum where they can learn proper installation techniques to keep their kids safe on the road."
In addition to the car seat safety events, Larry H. Miller Charities will make a $10,000 donation to Safe Kids Arizona, which will be used to provide car seats for those in need. In 2016, nearly 100 new car seats were distributed at the four events held across the valley and 172 seats were checked for proper installation and use. Since 2015, hundreds of car seats and booster seats have been checked during the "Keys to Car Seat Safety" events and those deemed expired or unsafe have been replaced with newer models at no cost to families.
Larry H. Miller Dealerships will host three events in the valley and one in Tucson. The schedule for car seat safety checks is as follows:
September 23, 2017 from 8-11 a.m.
Larry H. Miller Hyundai Peoria
8425 W. Bell Road
Peoria, AZ 85382
*National Seat Check Saturday
October 7, 2017 from 8-11 a.m.
Larry H. Miller Nissan Mesa
2025 W. Riverview Auto Drive
Mesa, AZ 85201
October 21, 2017 from 8-11 a.m.
Larry H. Miller Dodge Ram Avondale
10101 W. Papago Freeway
Avondale, AZ 85323
October 21, 2017 from 8-11 a.m.
Larry H. Miller Dodge Ram Tucson
4220 E. 22nd St.
Tucson, AZ 85711
For more information on car seat safety and event locations, visit KeystoCarSeatSafety.com.
Members of the media are welcome to attend the car seat safety events and will have the opportunity to speak with Larry H. Miller representatives, first responders, Safe Kids Maricopa County volunteers and the general public. To RSVP for media credentials, please contact Shelby Tuttle at ANDERSON Advertising & Public Relations at shelby@anderson-adv.com or (480) 330-9346.